The project was organically complemented by Tereza Barabash's objects installed in the space for artistic residences AIR Space. These objects are not so much "artistic products" but artifacts, a part of life that is almost not subject to "artistic" processing. They also serve as a trigger for memories and show in different ways how memory, mind, and imagination interact.
The exhibition consisted of two installations by an artist from Lviv – Tereza Barabash, audio recordings by a Croatian sound artist Sara Renar, maps of industrial objects, and developed fragrances of 6 important locations of industrial Pidzamche.
Installation 1
The stitched texts, mental maps, photos, and documents make up a symbolic cloud. The papers with this visual information are curving, breaking, and thickening so that some malfunction (information glitches) appear in their breaks.
In the context of conversations and interviews with the residents of Pidzamche, it becomes clear that the perception of the place, events, and time is very relative and, depending on the narrator, the image takes a certain subjective shape each time. That is to say, human memory is not solid but variable, and its structure is more like clouds – these changing, fluid, and unstable climatic events occur in different weather conditions and change with the seasons, temperature, geography, etc. In much the same way, human memory depends on time, conditions, and personal transformation and interpretation.
This cloud symbolizes the accumulation, storage, reproduction, and loss of memory.
Tereza Barabash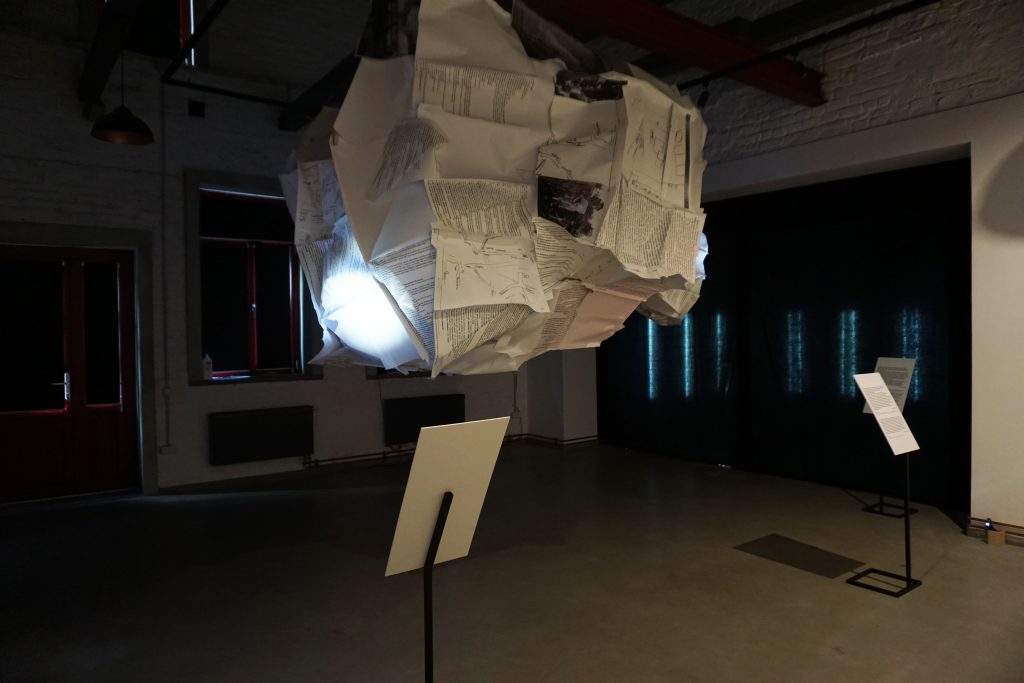 Installation 1 by Tereza Barabash
Installation 2
Usually, people's accounts of the past are nostalgic, and it is often said that they were better off when they were young. The older one becomes, the more romantic are the memories of their past.
You can imagine people working in factories, under the lighting of tens or hundreds of  daylight lamps. Do I have a sentiment towards these lamps? Perhaps, not. Because even though they created light, they also made unbearable noise, and their light was often uneven and flickering. Although today we have more opportunities, and new technologies make it possible to improve living and working conditions, people still nostalgically return to their past, including their past work under these lights of flickering lamps.
In this case, the lamps are a nostalgic symbol of an uncomfortable Soviet being. The installation allows the viewer to enter a closed environment, an environment in which a prolonged stay is impossible. Noise, sonic, and light dissonance create discomfort that presses, depresses, and repels.
Tereza Barabash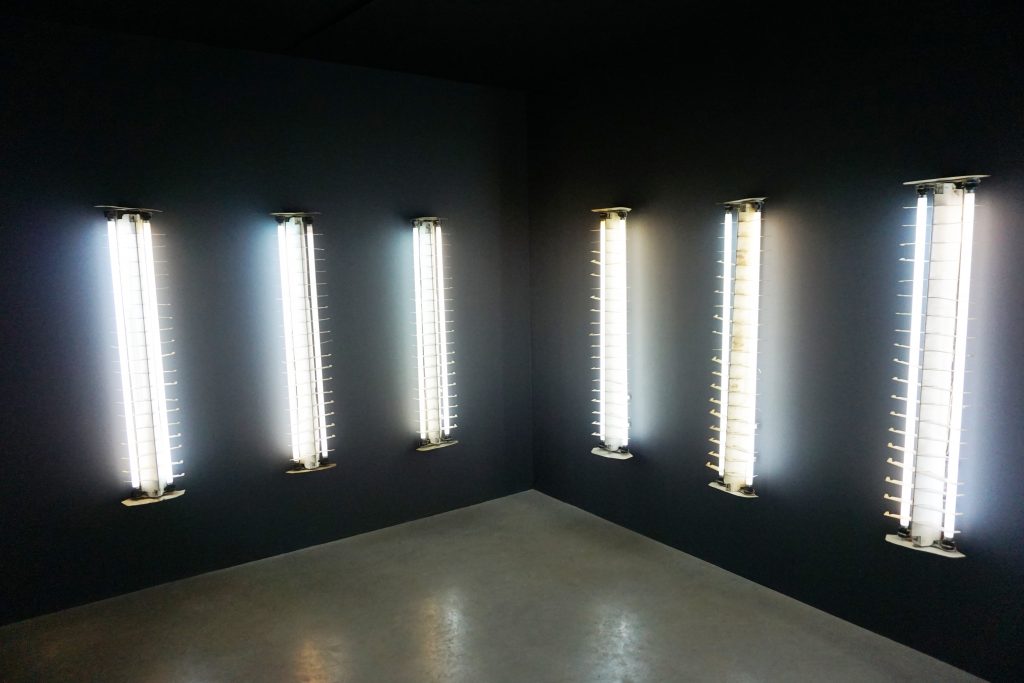 Installation 2 by Tereza Barabash
MagiC Carpets
"MagiC Carpets" is an international art platform created in 2017 that gives evolving artists and curators an opportunity to start their own "magical trip" by collecting local stories all around Europe and telling them in other countries through their art.
Jam Factory Art Center became a member of "MagiC Carpets" in January 2020.
For further information, visit this page
The project "MagiC Carpets" is co-financed by the EU Program "Creative Europe".
Artists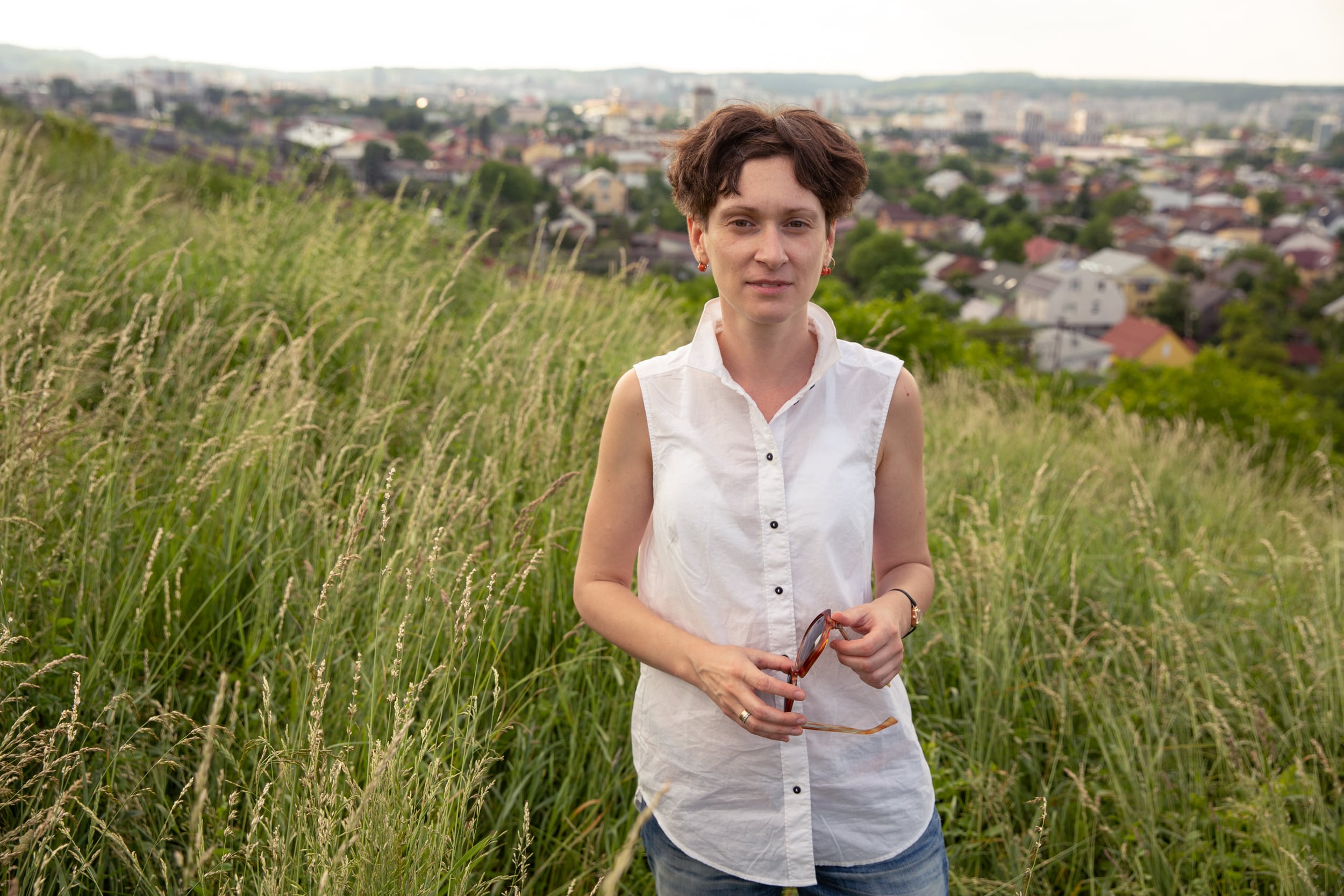 Tereza Barabash
Ukraine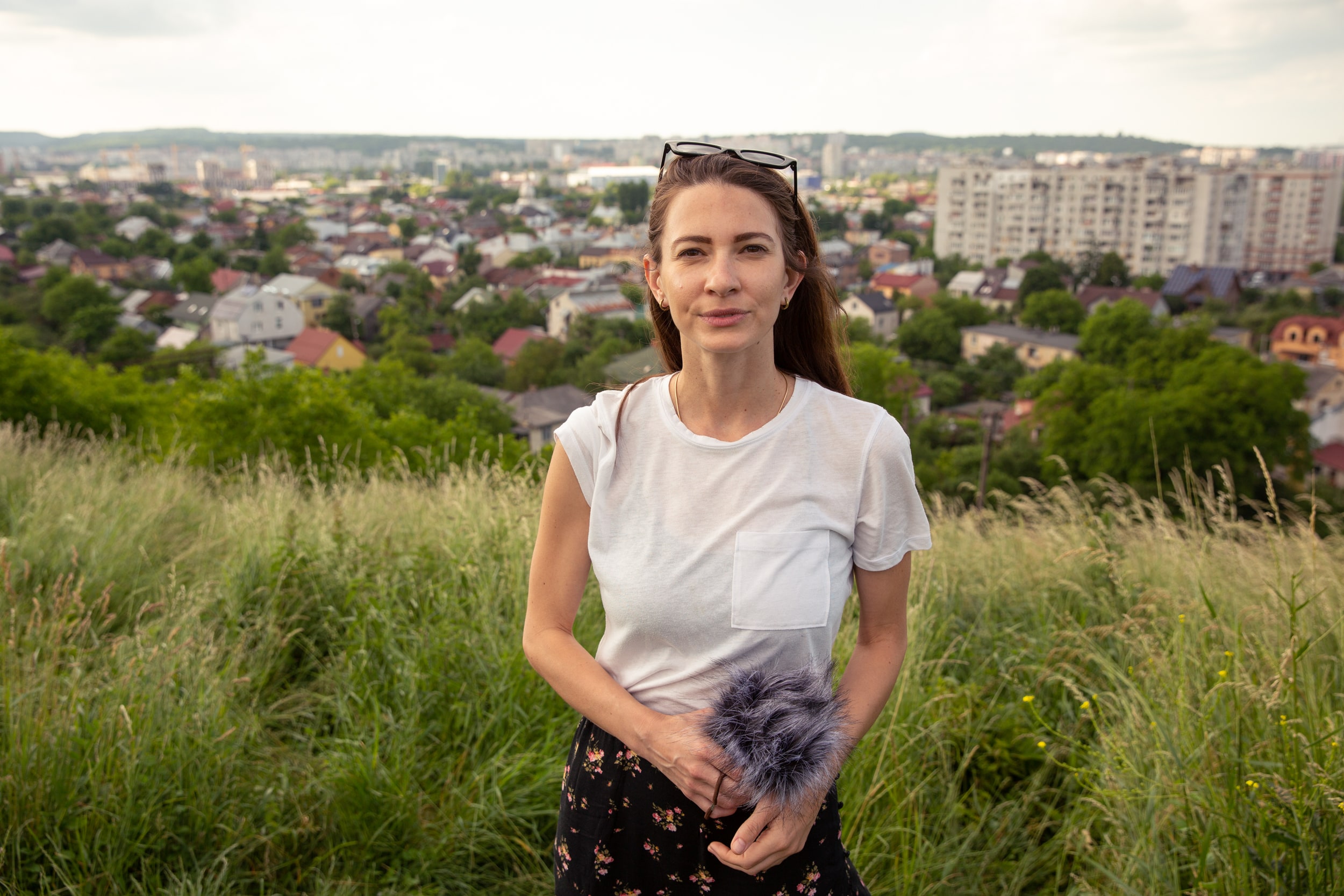 Sara Renar
Croatia