STORY OF ARTIST IN WAR
Before the war, I was immersed in artistic, research and scientific activities, there was a lot of interesting and varied work. I did not expect that at some point everything would stop and the only project in which my whole family would be involved would be survival. With the beginning of hostilities, I left Kyiv for the suburbs, leaving my usual life along with home and art studio. Now Kyiv and the region, like the whole country, are constantly under the threat of shelling, which leaves its mark on our everyday life, because every day we hear sirens and hide.
Despite the possibility of going to work abroad, I want to stay in Ukraine for many reasons, one of which, and the most important one, is that I want to document everything that is happening to my country and people through my war diary. It seems to me that being in Ukraine, we should record this state in the way we can, whether it is in a text, a song, or a work of visual art. Any way that will be useful for my country and the foreign community to deliver the main message – there is a war here, a war for our common freedom, for the right to be Ukrainians, exist and live on our land.
In my work, there have been changes in the materials that I am used to, the time that I devote to work, and the place. All this made me look at my creative activity in a different way. I realized that in my artworks I spoke too little about own identity and belonging to Ukrainian culture. I'd like to fix that, and that's why I'm currently working on a new project called "I'm Paving the Way". With this work, I aim to draw the attention of the community to such issues as freedom of movement and safety of everyday life, the desire to live freely on one's own land, and the deep need, which goes through generations, for Ukraine to finally become free. The issue of preserving freedom in the conditions of its suppression is not new for Ukrainian society, that is why the art research project "I'm Paving the Way", on which I am currently working on in the field of visual art, focuses on the research of freedom-identity. 
After spending a month and a half in isolation, without the possibility to leave, get medical help or buy the most necessary food, I realized how fragile our everyday life is. Therefore, I want to show (visualize) the human need to live and move freely, which was acutely felt by all those who were (are) under occupation or isolation in 2022 in Ukraine.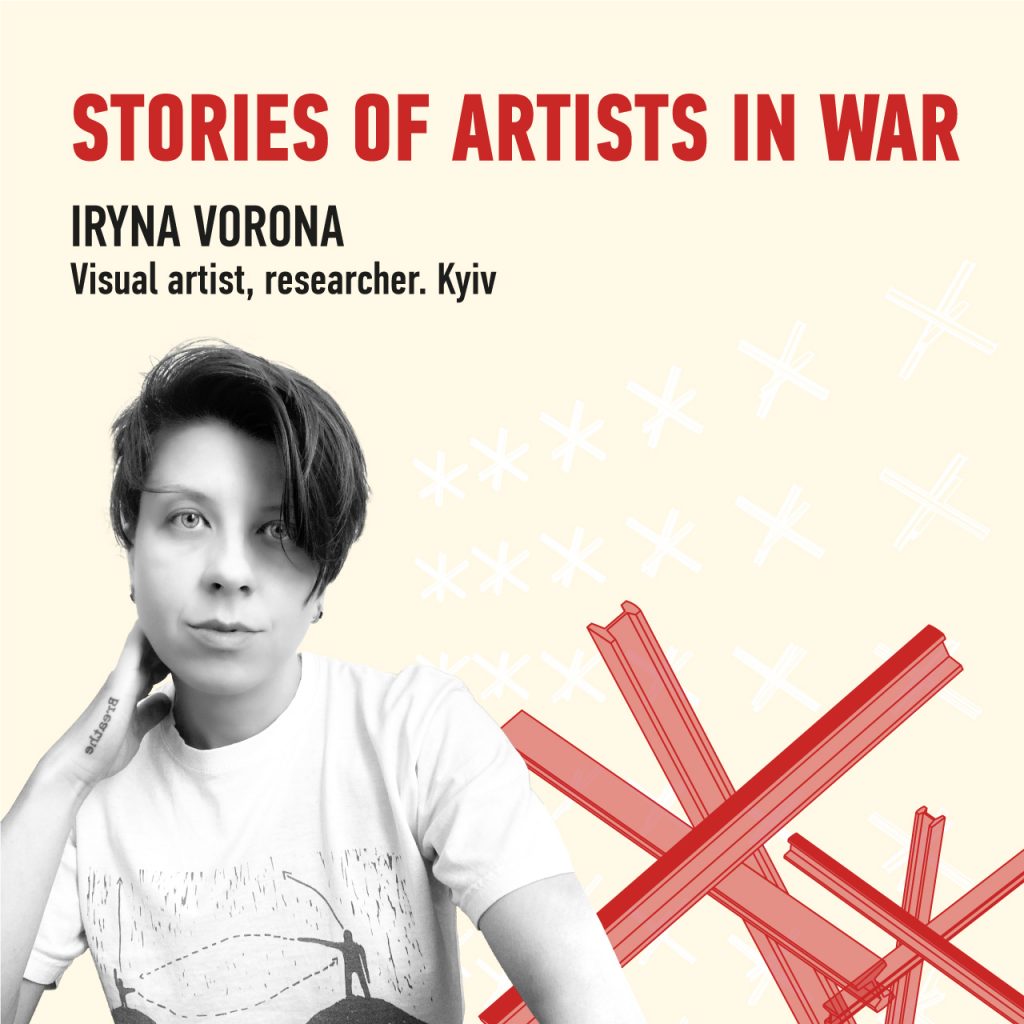 ABOUT ARTIST

Iryna Vorona – artist, researcher, author of the "mixed light" technique. She mainly works in the genre of "inner portrait", which combines classic media such as painting, graphics, photo collage and installation with new technologies, media art and VR. In her artistic practice, Iryna studies the manifestations of personality changes under the influence of a complex of external factors such as the environment and society.